VP Student Affairs - Ryan Munn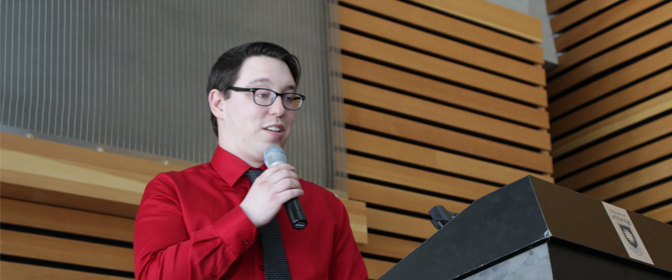 I am in the final year of my General Management degree with a minor in New Media. Throughout my time at the University, I have worked closely with the Student Affairs position by working as your Club Coordinator for the past year. Additionally, I was an event and assistant volunteer coordinator for the Fresh Fest Planning Committee during the past two years.

One of my coolest experiences through University took place over in Kelowna, British Colombia where I did my first co-op over at Mission Hill Winery as a Hospitality and Tourism Intern. Not only did I get to learn about the industry, but I got the opportunity to work with the one thing that got me through all of those late nights while pounding out essays. I'm a huge sports guy. Especially when it comes to hockey and lacrosse. Having played both sports for over ten years have taught me that teamwork makes dreams work! I love the outdoors, especially when it comes to hiking and exploring the beauty of the Rocky Mountains.
Initiatives
1) Diversifying on campus events:
When I first came to the University of Lethbridge, I struggled to find my place on campus. I didn't quite get the sense of community until I started to seek out opportunities that would better my educational career. For my term as VPSA, I will be building on the pre-existing relationships with student groups and administration on campus to ensure the quality of our events are upheld. I would especially like to work with organizations in the Lethbridge community that showcase both the talents in the Lethbridge area along with introducing students to what's out there in our city.

2) Streamlining the Club Experience:
In short, I want clubs to find their place on campus in the most efficient way possible. With over one hundred and thirty clubs on campus, the current system we have for clubs can come off as disorganized, and at times may frustrate clubs. What I aim to accomplish is to continue the digitization of ULSU records so that clubs may ratify their organization online instead of having to hand in a form by hand. Additionally, I want to start a conversation with clubs so that we can find the best option on how we can revamp club rush week. Lastly, I want to work with the registrar's office to solidify a plan that will allow clubs to book rooms well in advance of the current two week mandate.

3) Bringing the voice to the students:
One thing that I have seen during my time as Club Coordinator was the overreliance of email and messenger apps when trying to communicate with students. As VPSA, I will be spending time out of each day away from the office and commit my time meeting with students and clubs to better understand the issues that our members have in a proactive matter. That way, the Executive Council will have a better perspective on matters that concern students the most.
Contact Ryan Munn
PH: 403-329-5155
Email: su.studentaffairs@uleth.ca
Office Hours
Tuesdays: 1:00 PM - 3:00 PM
Wednesdays: 11:00 PM - 1:00 PM
Thursdays: 9:30 AM - 11:30 AM

To schedule an appointment please email su.studentaffairs@uleth.ca