VP Operations & Finance - Jordan Miles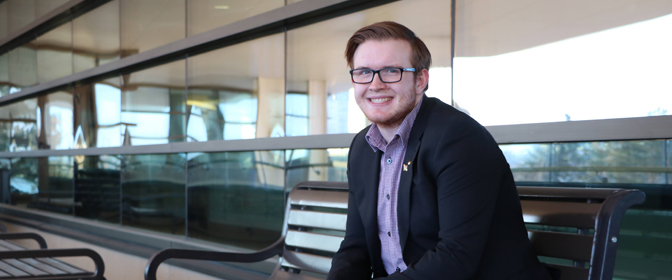 Hey there, my name is Jordan Miles, I am currently pursuing a Bachelor of Arts and Science in Mathematics and Economics. I come from a small town in British Columbia which is called Sparwood. I am a very active member of the Greek Life community, currently serving as the President of Kappa Sigma here on campus, as well as being their Treasurer the year before. I also currently serve as a member of the ULSU, as an Arts and Science representative. These experiences, as well as communications and shadowing of the former 3 VP Operations and Finance has given me much of the preparation needed for this position.

On a personal note, I am an avid lover of music, particularly Electronic music. If you see me walking around the school I likely have my headphones on. Music festivals are my favorite type of vacation and I love an opportunity to dance with my friends. Beyond that, I also love a low key night spent reading or playing games with a small group of friends. I also currently have a part time job as a disability service worker which is very fulfilling. I do love to volunteer as well , and my favorite kind of volunteering is the ones I do with my fraternity brothers, because they are such an amazing group of guys.
Initiatives
The main focus will be on transparency of the Students' Union and it's operations. I would first like to give extensive review of the larger initiatives and services that the ULSU has been offering. This is not to be done with the intention to remove any of the services that the ULSU is offering, as I believe that this organization brings services that are truly important to students. This is done with intention of finding ways to be more efficient with these services, to make the services better.

Another initiative has to do with the university itself. The ULSU has made contributions to buildings beyond the Students' Union building. The university has given very little recognition to the ULSU for this. I don't believe this is fair to the students in general, as my fees and their fees are already going to help fund these buildings; in a sense, the student body is double paying. In the event of these requests, I strive to seek the students approval first of such funding. Then, if given such approval I would ensure that the ULSU and the student body are recognized by the university for such contributions.

Some other initiatives are focused in other areas of the organization. This includes the pursuit of increased club funding. I believe that if the clubs on campus are pursuing funding to help increase the culture, diversity, charity, prosperity and experience for students and the university, then they deserve to have those funds. I would also like to maintain the Legislative Review Committee. In my time in Kappa Sigma I have learned that it is not only required, but necessary to review your internal legislative documents. In an ever evolving word it is important to evolve your organization along with it. I do know that a referendum to change the constitution can be extensive and tedious, and as there is one currently on the ballot, my desire is not to focus so much on that. My focus is likely to be more on the Bylaws and Rules of ULSU.
Contact Jordan Miles
Tel: (403) 329-2292
Email: su.finance@uleth.ca
Office Hours
Tuesday: 1 PM -3 PM
Wednesday: 9 AM - 1 PM
Thursday: 1 PM -3 PM