President - Jon Diaz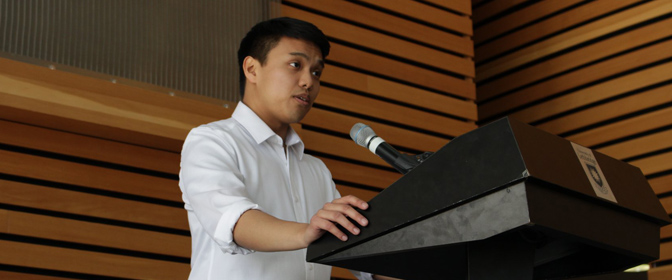 Five years ago, I arrived at the University of Lethbridge uncertain of who I was and where I fit in. Thankfully I found a place of belonging in residence and in the Organization of Residence students, where I was a Residence Assistant for 2 years, then ORS President for a year. The ORS President also serves as the Residence Representative on the ULSU's General Assembly, which was my introduction to the organization as a whole. Advocating on behalf of those who lived here on campus was something I realized the importance of immediately and, desiring to continue that work in a broader field, ran for and won one of the positions of Arts & Science Representative for last year. Along with being a faculty rep, I was also the Communications Manager for ORS and VP Transition for PACT.

The University of Lethbridge has become an important aspect of my life these last few years, and I want to do all I can to give back to the communities that have given me so much and pave the way for success for all students here.
Initiatives
Over the past year as one of the Arts & Science Representatives, I have had the great opportunity to sit on the Strategic Plan Committee, an internal committee in the ULSU. It has been some time since the ULSU has had an active Strategic Plan, so me and the other members of the committee have spent the year creating a new plan for use by future members of the Students' Union. The three focuses of this document we have decided on are: Building Brand Recognition, Institutional Continuity, and Diversifying Revenue. One of my goals for this year, is to give a first strong step to achieving the goals of each of these priorities. This will initially look like working with the new Communications Manager on new communications and advertising initiatives, creating specialized binders filled with advice and useful information for future presidents and general assembly members, and working with the newly elected VP Operations and Finance to research new avenues for the ULSU to rely less on student levies.

With the decisions made by the current government, many fees can and will go up. I am working with the newly elected VP External to work on a tangible and viable campaign to advocate to the provincial government and to the university's upper administration to prevent anymore future increases. The life of a student is already stressful as is, I will do all that I can to help ease that.

Lastly, an issue that has been identified on the UofL campus is food insecurity. Many students go hungry in their day-to-day lives, and I personally found myself in their shoes at times. The university and the Students' Union have many great initiatives to help combat this problem, from the care packages, to the Nourish program, to the ULSU foodbank, but I still believe that there can be more that can be done. This may look like increasing the number of free food pantries available around campus, or even allowing the new-purchased kiosk in the food court to provide for students in need in some way.
Contact Jon Diaz
Tel: (403) 329-2221
Email: su.president@uleth.ca
Office Hours
The ULSU Office is open every Wednesday at 11am to 3pm for in-person conact. All other days we are working remotely. You may contact me through email at any time.