Fine Arts Rep - Holly Kletke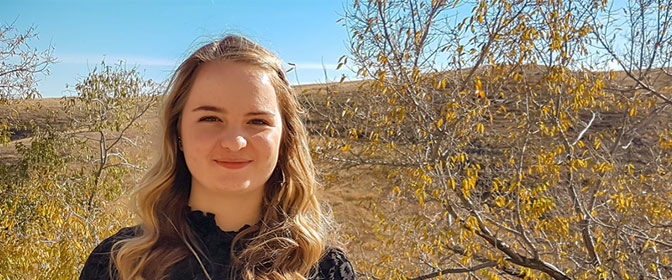 My name is Holly Kletke and I am the Fine Arts Representative on the Students' Union.

I started singing when I was 4 (or perhaps even younger) and started singing lessons when I was 6. Throughout my time taking lessons, I was warded scholarships, medals and awards for high achievement in various Royal Conservatory of Music voice examinations, performances in Alberta Contemporary Showcase, and the Calgary Performing Arts Festival. I have always had a passion for music, and so I delved further into the music world by joining middle and high school band as a clarinet player, and high school jazz band as an alto saxophone player. I also learned the autoharp for an International Baccalaureate personal project, and I play guitar and ukulele. I can also play some piano, although it is not my forte. Last year, I performed a half hour music recital for a International Baccalaureate music class, and was awarded high marks. So I love music, but I also love many other facets of the fine arts. I have participated in four school musicals, one of which being Shrek the Musical, so I hope that you vote for me because I was once in Shrek the Musical. I also love to make and edit travel videos as a hobby. Overall, I am very passionate towards the fine arts. If elected Fine Arts Representative, I would only like to enhance the experience of students in the Fine Arts faculty.
Initiatives
I have many prospective initiatives for the position of Fine Arts Representative. The first of which being to foster a good relationship between students and the new Dean of Fine Arts who will be starting in August. Whether I serve as a liaison between students and the Dean, or encourage students to talk to the Dean themselves, I think it imperative that the Dean and the students have an involved relationship, in order to guarantee the success and morale of all fine arts students. Another issue that has been raised to me within the music department, is that morale is low and apathy is high among first year music students in particular. If this is the case in the music department, it may also be the case in other areas of the fine arts, and thus I would like to ratify a Music Undergrad Society, and encourage students of other areas to do the same.

In that same thread, I would like to continue the work that the previous fine arts rep, Kierian Turner, has done with the creation of the fine arts collab facebook page. I would like to foster more collaboration between all the floors of the fine arts. As well, I would like to invite keynote speakers to come and speak to fine arts students about careers in the fine arts, because there can be a perception that careers are not guaranteed, or that a degree in the fine arts cannot
make money, however I would like to challenge this perception. I would also like to organize career workshops where students could learn about different career opportunities offered in their fields of study. I love seeing the art that is often hung on floor 8 of the fine arts building, but sometimes I do not have time to appreciate that art enough, and so I believe the creation of an online art gallery that is accessible to all students would be a great way for everyone to publish and appreciate the art that comes from the students of the fine arts faculty.
Contact Holly Kletke
Email: holly.kletke@uleth.ca