Fine Arts Rep - Holly Kletke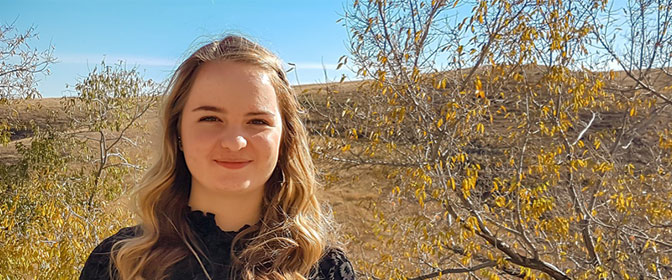 My name is Holly Kletke and I am the Fine Arts Representative on the Students' Union.

I am in my third year of a Bachelor of Music and Education degree, studying vocal performance. I have been a member of the Students Union consecutively since 2018. I've immersed myself in student leadership and advocacy opportunities at the UofL, and I truly have a passion for post-secondary education. In addition to serving on the General Assembly last year, I also held a seat on the University Senate, which was a very enlightening, rewarding and valuable experience. I am also the president of PACT, a student leadership club that works with the Advancement office on campus. I am also a Residence Assistant with the Organization of Residence Students. One of my favorite places on campus is the Zoo for karaoke night, and the Office is my all time favorite TV show.
Initiatives
To be a member of the Students' Union is to commit yourself to the pursuit of anunparalleled post secondary experience. I believe that student leadership is essential to post-secondary education. In serving on the General Assembly for the last 2 years, I've learned that this position is about enhancing the student experience through advocacy. My goal for this year is to confidently and faithfully represent fine arts students. I want to be as transparent as possible with my constituents, as well as with the faculty, staff and administration members who I interact with. I would like to exhibit the importance of student leadership and advocacy through my words and actions, and hopefully through this I will empower fellow students to immerse themselves in the student experience, get involved and make change happen. I am committed to exercising diligence in all of the responsibilities of my role.

I believe that students of the fine arts have one thing in common, passion. I hope that the passion that we have for our programs is equally as fervent as our passion for a quality education.
Contact Holly Kletke
Email: holly.kletke@uleth.ca