Arts & Sci Rep - Selena Boutilier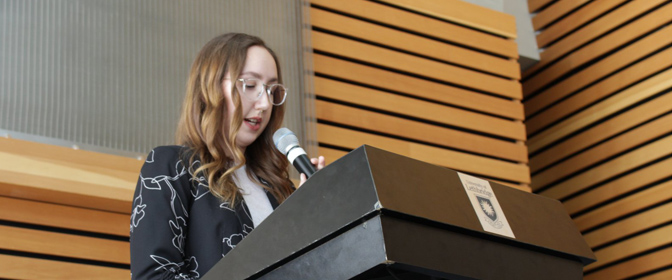 Hi! My name is Selena Boutilier, I am a third year Psychology student. I am one of your Arts and Science Representatives for the 2020-2021 academic year!

I am currently an active member of the Delta Eta Iota Sorority on campus as well as a member of numerous ULSU clubs on campus. Through these clubs I have had the opportunity to do many amazing things to give back to our community with all of these amazing clubs and organizations. I am an active member of the University and I would like to be a voice for all of the students on campus. I have been lucky to have numerous opportunities for leadership throughout my life, from being a team captain on my international championship gold medal team, to being an executive member of two separate student councils in my High School.

I spend my free time training in Baton Twirling and dance, and like to keep myself active. I believe physical activity is an incredible way to keep my sanity through school, and really helps with my academic performance!
Initiatives
My main Initiative will be to be representation for the students in clubs and Greek organizations on campus. I would love to bridge the gap between the Students' Union and the Clubs on campus and make things work more efficiently for the students. Club Representation has generally been low in the general assembly and I would love to make that number larger to reflect the ideals of many students that generally do not have their voices heard. I think with more representation of different populations in the school we have, the more potential our Students Union will have to accurately represent our student body's wishes and desires.
Contact Information for Selena
Email: selena.boutilier@uleth.ca