Arts & Science Rep - Jon Diaz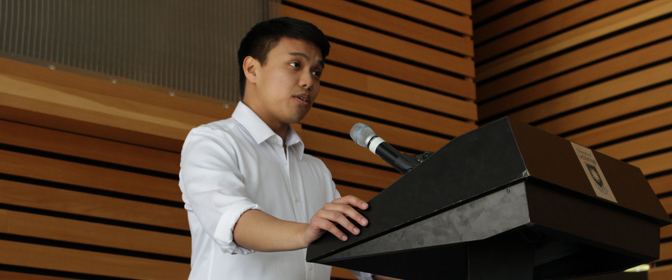 Hi! I'm Jonathan Diaz, and I am one of your Arts & Science Representatives this year. I'm currently in my fourth year of a degree in Physics major, and I'm originally from a small town up north called Peace River, and I came here to the U of L in large part due to the incredible reputation of the Education program.

My personal interests are quite varied, and I believe I can present a balance between science and the arts! I chose to major in Physics due to my overall interest in learning how the Universe operates on its very fundamentals, but I still hold a lot of interest in art (particularly, animation and music).

Over the past 3 years, I have had wonderful opportunities working for the Organization of Residence Students in various positions. This year, I am the ORS President, which also holds the position of Residence Representative on the ULSU General Assembly.
Initiatives
Serving as a representative of such a large student faculty can be daunting, thus the need for six Arts & Science Representatives. There is still not an efficient way to garner feedback and info from all of those students, which is why I would be interested in creating a system which allows for efficient communication between the faculty reps and their respective student bases.

Further, I would be interested in creating an event with the VP Academic and the First Year Representative that is focused on first and second years in the fall semester. I know that when students first come here to the U of L they may realize that their chosen program might not be exactly what they want to pursue anymore. This event would attempt at making the idea of program changes not as daunting and would introduce students interested in different programs that may be available to them. This event could also include the various academic/faculty-inclined clubs around campus and their respective faculty members.
Contact Jon Diaz
E-mail: j.diaz@uleth.ca