Arts & Science Rep - Amy Lambert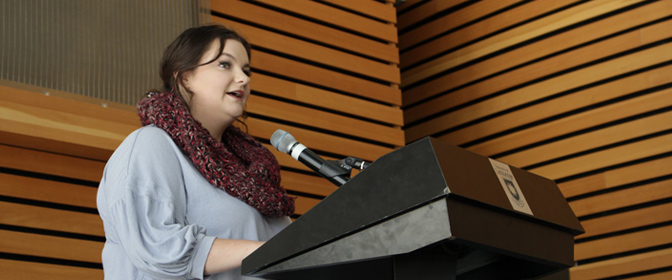 Hello, my name is Amy Lambert and I am currently in my third year of my Political Science degree. I am one of your Arts and Science Representative in the Students' Union. Over the last two years I have served as a Residence Assistant in the Organization of Residence Students here at the UofL. Over these two years, my passion for education on mental health, consent and academic success has grown. Last year I was the Sleeper Coordinator for 5 Days for the Homeless. This fundraiser raised money for Woods Homes in Lethbridge, but also raised awareness of homelessness in Canada. Last year I sat on the Preventing Sexual Violence Action Committee, and worked with University stakeholders to further create an educated and aware campus.
Initiatives
I would like to further advocate for mental health and consent initiatives. I think both of these initiatives are important to our university because these initiatives will in some way or another affect all students in not only the Arts and Science faculty, but the University at large. With University health budget cuts, building a community that involves the education of mental health has never been so important. As an Arts and Science Representative I would take my passions and education I already have and further their initiatives university wide.

I also think it's important for the Arts and Science Representatives to be accessible to all students. At the end of the day, the initiatives of the 2019-2020 school year should be created off of what students want. I think this can be done by all six of the Arts and Science Reps cohesively making themselves accessible to the students in the faculty to further create a line of communication between the students of the faculty and the representatives of the faculty.
Contact Amy Lambert
E-mail: amy.lambert@uleth.ca