VP Student Affairs - Daan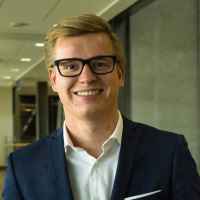 My name is Daan Smit, a 5th year finance student, and I am your Vice President - Student Affairs (VP - SA).

My journey in Lethbridge started in April 2012, when I immigrated from The Netherlands to Canada. My first couple of years here in Canada were not easy. I had to learn a new language, but even more difficult was learning and adapting to the new culture. Yet those difficult years have made me what I am today.

When I arrived in Canada, I arrived during the second half of the second semester of the school year. My english was terrible, and although I didn't attend the first half of the semester, I still had to write the final exam to pass grade 11. All the teachers were telling me that it would be okay if I failed the class, but I decided it was not. With my dedication and commitment I was able to study 8 hours a day for 2 weeks straight. And guess what; I passed my exams.

Our time at the University is not a breeze, it is full with obstacles and times of adversity. Financial stress, the pressure to perform well, staying healthy and trying to maintain a social life are major challenges that we students face. These stresses can deteriorate our mental health and can often result in burnout, however, your exam the next day does not care. That's why I want to put more emphasis on student mental health and mental health initiatives. We already have a program called "7 Cups of Tea" to help students through their adversity, however, it has not reached widespread usage yet. This will be my first initiative, to make students aware of the mental health programs that are already available on campus, and I will implement new programs if necessary.

This brings me to my second initiative. Most students are not fully aware of the benefits and opportunities provided by the SU, such as student emergency funds, mental support, advocating on the behalf of all students to the provincial and federal governments, and more. While we have seen success with what I have just listed, there are still more programs in place that have more potential. My goal, is to make it so all students are aware of these programs and are able to take advantage of them as needed. I am proud and excited by the programs, opportunities and benefits offered by the SU, and I believe all students should be as well.

I will create events that are diverse, so that a larger variety of students can be included. I love Fresh Fest, the Cabs, and Dirty Bingo, etc. but it's no secret that they tend to appeal to the same people over and over again, and don't appeal to all students. We have 44 fantastic clubs on campus, and some that operate as separate groups. I would love to work with different clubs to create new events that appeal to a wider variety of students. Not only that, but it also increases the interaction between the student union and the clubs we support.

Contact Info for
PH: 403-329-5155
Email: su.studentaffairs@uleth.ca
Office Hours:
---