VP External - Conner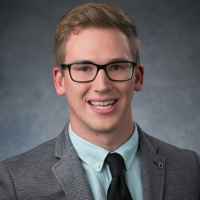 My name is Conner Peta and I am excited to be your Vice-President External for the University of Lethbridge Students' Union. I am a fifth year Political Science student with a minor in History. I am a politics nerd who also enjoys reading, and loves Star Wars, lacrosse, and football.

As your VP External, I advocate on your behalf to the municipal, provincial, and federal government. Issues that we advocate on include the regulation of tuition, student financial aid, mental health funding, increased access to student loans, and funding for indigenous students. We are able to advocate for these issues through our membership in our provincial advocacy group, the Council of Alberta University Students (CAUS), and our federal advocacy group, the Canadian Alliance of Student Associations (CASA).

One of my goals for this upcoming year is organizing a 'Get out to Vote' campaign for the 2017 municipal election. Additionally, two external goals that were in my platform include continuing to advocate for sustainable and predictable mental health funding to the provincial government, and looking into whether CASA can lobby for the removal of parental income as a factor when applying for the Canada Student Loan Program. I believe that the leadership roles I have taken on as Vice Chair of CAUS, and member of the Federal Policy Committee for CASA, demonstrate my commitment to fulfill these goals.
Contact Info for Conner Peta
PH: 403-329-2780
Office Hours:
Email: su.external@uleth.ca